An ad campaign by China's official football governing body has sparked resentment in the city after the release of a racist poster depicting the Hong Kong national team.
In the poster, the Chinese Football Association (CFA) warned its fans not to underestimate Hong Kong in the upcoming qualifiers for the 2018 World Cup, reports the SCMP. The poster, shared on the body's official Weibo account, referenced Hong Kong's non-Chinese players: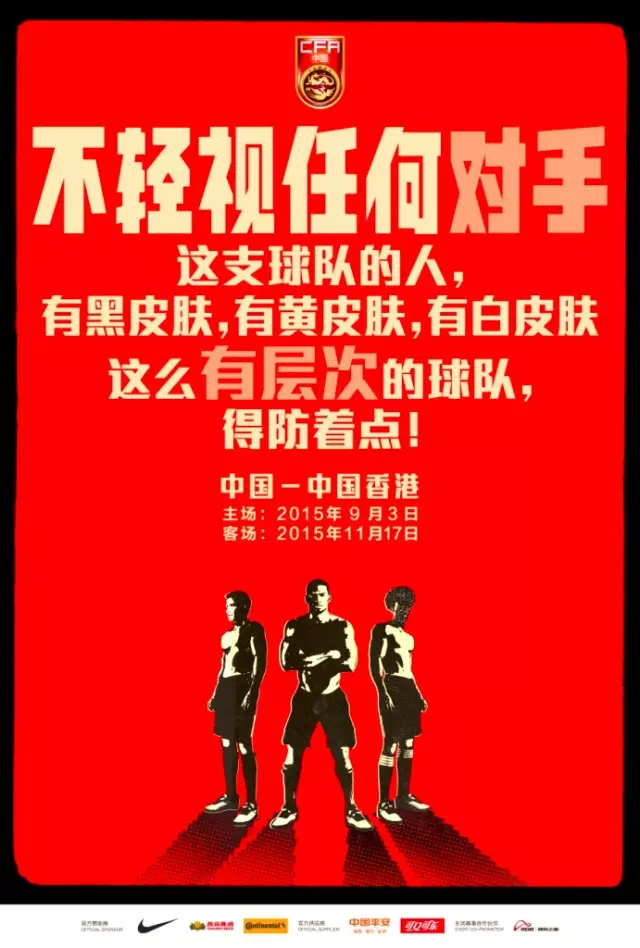 "Do not estimate any opponent. In this team, there are black-skinned, yellow-skinned, and white-skinned players. We must be cautious against a team with so many colour layers".
Other versions of the poster mocked China's other opponents in the qualifying group, calling Bhutan "pretentious", Maldives "fragile", and Qatar "nouveau riche".
The Hong Kong Football Association quickly launched their response to the poster, posting an altered version of the original to their Facebook page:
"Do not let others look down on us. Our team has blacks, yellows, and whites, and our only goal is to show them what Hong Kong is made of. Support us if you're a true Hongkonger!"
Instead of the original poster's "China vs Hong Kong, China", the new one says "Hong Kong vs China", and includes the hashtag "supporting our own" (#撐自己人).
HKFA's response attracted more than 12,000 likes on Facebook since it was posted.
Hong Kong's national football head coach, Kim Pan-gon, told Oriental Daily that the CFA's posters were "inappropriate" and "disrespectful".
Kim, who is a South Korean national, says this incident will give his squad a reason to prove China wrong on the field.
Hong Kong will be playing against China here on home turn on Nov. 17, after which they'll play an away match on Sep. 3.
Photos: CFA Weibo, HKFA