Ozone, which bills itself as the highest rooftop bar in the world, has just debuted a new cocktail menu that draws inspiration from the five elements of nature — that's metal, wood, water, fire and earth, in case anyone needed a refresher.
The bar sits atop Hong Kong's tallest skyscraper, the International Commerce Centre building in Tsim Sha Tsui, which means that it's also got sweeping views of Victoria Harbour. 
The newly launched drinks were designed by Mexican-born mixologist and Ozone bar manager Oscar Mena, with each one meant to represent its respective element's color and characteristics. The names, meanwhile, are pretty straightforward.
There's Water (HK$148), a blue-hued vodka and sake blend mixed with coconut water and Japanese umami bitters. It comes topped with an oyster shell and "pearls" made of spherified beads of yogurt. Metal (HK$168), on the other hand, is served in a metallic glass filled with gin and citrus-based ingredients such as sparkling kombucha, lemon juice, and umeshu, or Japanese plum wine.
Then there's Wood (HK$198), which Mena describes as having a smoky character. It's made with Alipus Mezcal that's been barrel-aged for a month before getting spiced up with chocolate bitters and the earthy, herbaceous Fernet Hunter bitter liqueur. 
If something sweeter is more your style, then Earth (HK$148) might suit. For this one, Mena shakes up shiitake mushroom-infused rum with Seedlip's alcohol-free botanical spirits, Roots Mastiha herbal liqueur and homemade pandan syrup. 
Lastly, there's the crimson-colored Fire (HK$198), which blends hibiscus flower-infused whisky with a Thai chili tincture and carrot with blood orange liqueur. 
In case you're curious enough to try the entire set in one sitting, then Mena has this bit of advice: "If you taste the cocktails in the order of Water, Metal, Fire, Wood and Earth, you are going to have a taste of how these five distinct cocktails strike a perfect flavor balance." 
And with that, we leave you with this five elements appreciation GIF.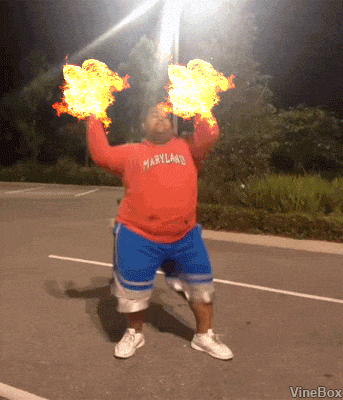 FIND IT:
Ozone is at The Ritz-Carlton, 118th floor, International Commerce Centre (ICC), 1 Austin Rd W, Tsim Sha Tsui, Hong Kong
Mon-Sat 5pm until late, Sun noon until midnight 
Phone: +852 2263 2270
MRT: Kowloon
Join COCO+ and get ad-free browsing experience on Coconuts, and more juicy perks.