If you've been in Thailand over the past few weeks, you've most likely seen the Bhumjaithai political party's weed leaf-studded campaign posters.
"Thai marijuana should be grown freely," declares one of the placards posted around Bangkok.
"We will change the Narcotics Act to make medical marijuana the new crash crop that brings wealth to the Thai people," it goes on to declare.
But not only medical marijuana. Bhumjaithai's platform posits that full legalization of marijuana — yes, recreational too — is one of the best solutions to Thailand's economic problems.
And it appears more than half of Thai farmers wholeheartedly concur.
According to a poll of 1,116 working citizens released today by respected local research outfit "Super Poll," 58.5 percent of men agree with the party's policies while just over 43 percent of women feel the same.
In terms of occupations: 51.8 percent of farmers surveyed — a group that ostensibly could stand the most to gain by full legalization — agree with the party's policies, while 61.5 percent of government workers and 71.4 percent of private company employees do.
Even those not in favor of Bhumjaithai's push, admit there could be benefits, with 73.5 percent agreeing that the party's policies would help improve the finances of low-income citizens.
A whopping 90.6 percent of Thais came firmly down on the side of protectionism for the new cash crop, meanwhile, saying they don't believe foreigners should be able to own Thai patents. Sorry, farang weed speculators!
Speaking with Coconuts Bangkok on the phone this afternoon, Noppadon Kannika — a Thammasat University sociology and architecture professor and managing director of Super Poll — said the polls were conducted March 1-11 both in person and over the phone.
He believes there are many reasons why Thai people don't want foreigners taking an ownership stake in a new industry.
"Some people are worried about the economy, while some people hold a nationalist stance. There are lots of reasons why Thai don't want foreigners to possess Thai-grown marijuana," he told us, adding that he observed a heavily "Thai-first" mentality.
As for the strong level of support for broader legalization, Noppadon told us it wasn't unexpected.
"I'm not surprised, because I've been examining people's mentality towards marijuana for about two to three years now and have noticed that the people's mentality has been changing," he said.
"Since last year, there has been more media coverage about the subject as well as increased events and educational activities about medical marijuana. While before people perceived it as an illegal plant, they are now seeing the medicinal and research benefits.
"Now more people understand it's also a cash crop."  
So what exactly are Bhumjaithai's policies?
Beyond proposing to legalize the free cultivation of medical marijuana, the Bhumjaithai party (which translates to "Thai Pride"), led by Anutin Charnvirakul, is also setting out to legalize recreational use as well.
The policy the party proposes is tailored after the "California model" with a few Thai-centric policies added, Bhumjaithai secretary-general Saksayam Chidchob said in a recent broadcast interview with Matichon Weekly.
The party proposes three specific steps: First, the legalization of the medical process of turning marijuana into medicine. Second, free cultivation and farming of the plant for commercial purposes. And finally, allowing every Thai household to grow six plants that can then be sold to state agencies.
"In California, adults (over 21) are allowed to cultivate up to six marijuana plants in their home for a license fee of US$1(about (THB32) per plant. The economic value shot up very quickly to the point where the California government could collect US$3 billion (over THB95 billion) just in license fees last year," Saksayam said in the interview.
Though we can't confirm that number, Mercury News reported that California took in $345.2 million in tax revenue from regulated sales of recreational cannabis last year.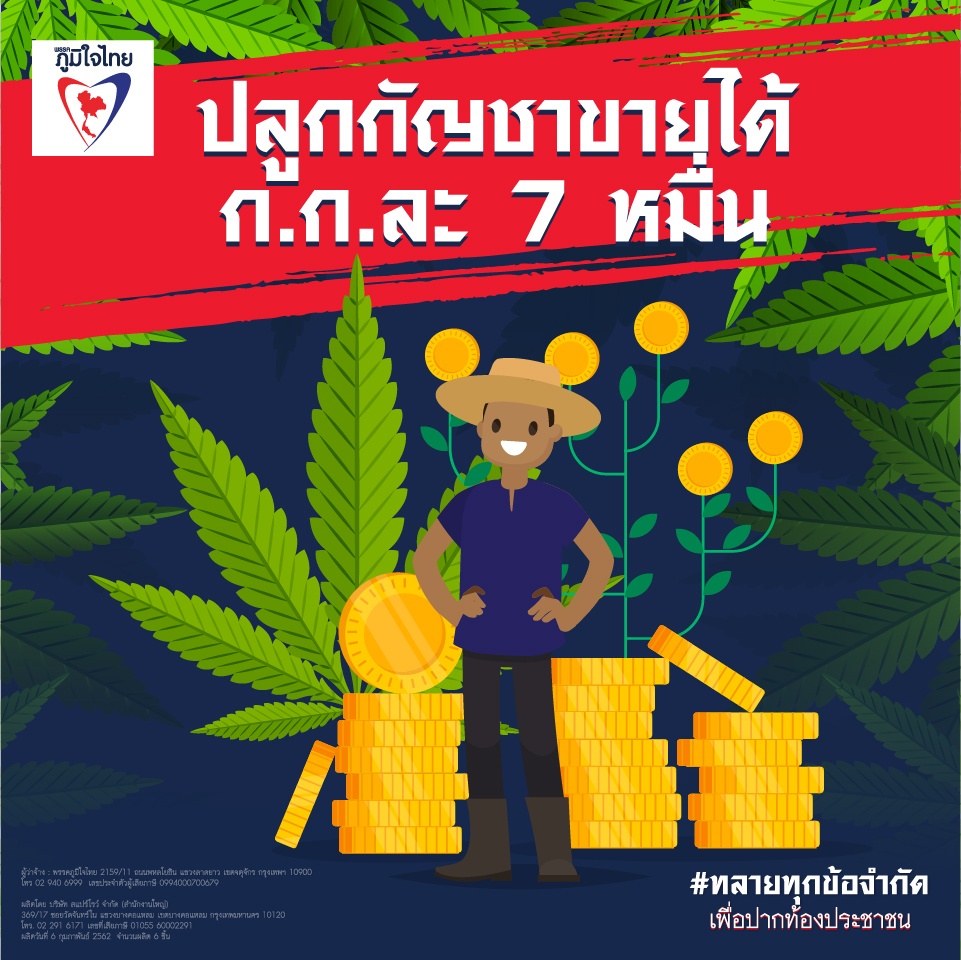 Saksayam estimates that THB70,000 (or about US$2,200) can be earned in the kingdom annually per plant. This means with six plants, THB420,000 (over US$13,000) can be earned.
"We've studied this subject for a long time and have observed so many Thai brothers and sisters suffering from poverty and debt, especially among farmers — the people who put in the most work and investment but end up with the most losses," he said.
However, this doesn't mean anyone could just plant marijuana without permission.The party says interested growers would still need to apply for a license.  
Watch Bhumjaithai's "liberate" marijuana ad here: