Responding to rising violence against critics of the military regime, the junta second in command said today that he's ordered police to speed the hunt for four men who assaulted a pro-democracy activist in an attack he worries was politically motivated.
In a tone somber for the famously brash deputy prime minister, Prawit Wongsuwan this morning denounced the violence in the wake of footage showing Friday's assault of Sirawith "Ja New" Seritiwat and promised daily police updates in the investigation.
"I don't know if the motive is personal or political. We have to wait for the police to interrogate everyone and gather the necessary evidence to conclude that but I am worried about the attack has something to do with politics," he said today. 
Update: Attack on Thai activist 'Ja New' politically motivated: police
Prawit, who has been accused of ordering similar attacks by another activist, dismissed claims the government was behind the attack but conceded "there's not much we can do about" what the public thinks. 
As of this morning, Col. Shaiwit Poompote, deputy division three metro chief, told Coconuts Bangkok the perpetrators had yet to be identified.
Suspicions of government involvement are ripe, especially after Future Forward Party member and Rangsiman Rome, a former ally of Sirawith's in the pro-democracy movement, publicized CCTV footage showing the moments leading up to the attack which left the 27-year-old with a fractured eye socket and nose. His mother said she did not know whether he would regain sight in both eyes.
About halfway through the roughly one-minute clip, two men armed with batons on a motorbike are seen abruptly parking on the side of a busy road in Bangkok's Khlong Sam Wa district. They hop off their bike and charge Sirawith, who is off-screen. Neither the attack nor the two other suspects involved were captured in the video. Police have said CCTVs in the area had been tampered with.
The attack took place in a crowded street in broad daylight as traffic piles up behind.
It was the second such attack on Sirawith just in June and comes on the heels of similar attacks of several other junta opponents, not to mention the disappearance and presumed murder of several dissidents who had been living in exile in Laos.
Pro-Democracy activist brutally beaten in broad daylight in Bangkok
The brazen nature of the attack and footage looped during Sunday news programs has brought heightened public interest.
National police chief Chakthip Chaijinda on Sunday aired his suspicions that both attacks on Sirawith were orchestrated by the same group. He said political activists should seek official protection if they feel unsafe, however he said police had yet to conclude whether the attack was politically motivated. 
He also suggested that it wasn't safe to get political in public, saying that activists should avoid campaigning publicly because taxed police resources mean they couldn't guarantee their safety.
Update: Brutalized Thai activist given ultimatum – give up politics for protection
In May, activist Ekachai Hongkangwan was beaten by four men on motorcycles in front of the Bangkok Criminal Court. It marked the seventh such assault of Ekachai in under two years. He has accused Prawit of being behind the attacks which he believes are motivated by his ongoing protests of the junta No. 2, who also serves as defense minister. Prawit has dismissed the claim.
No one has been held responsible in any of the attacks.
The consensus online seems to overwhelmingly negative with people expressing exasperation over the rising level of violence.
On Saturday, user Letcheckthemap asked the Twittersphere what kind of lawlessness was taking hold if it was OK to injure those with different views.
"Anyone should not be injured because of different political opinions. Is there the legislation in this country? [sic]" he wrote.
Anyone should not be injured because of different political opinions. Is there the legislation in this country?? #จ่านิว #หยุดคุกคามประชาชน

— (@Letcheckthemap) June 28, 2019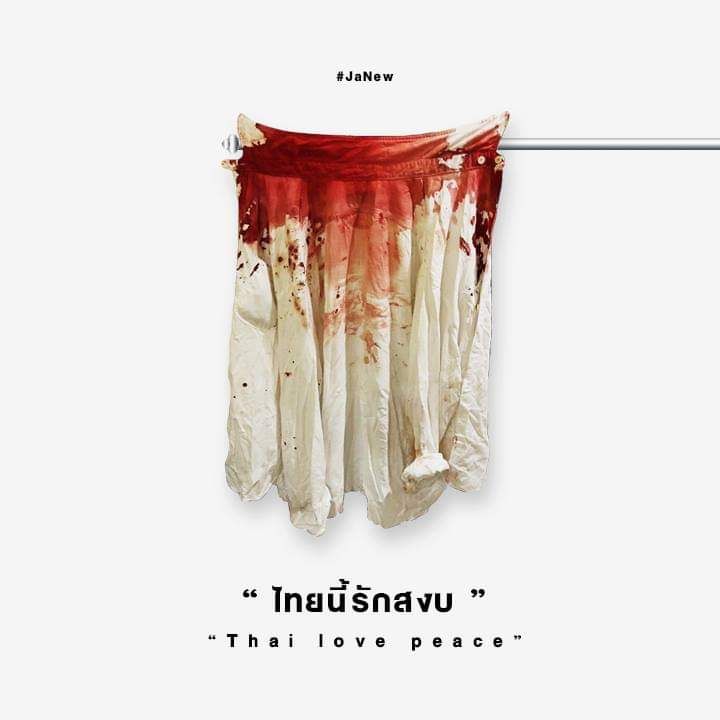 Friday's attack on Sirawith inspired some generosity in the form of a donation drive to help his mother, a longtime maid who lives in poverty, pay his hospital bills. People throughout the weekend shared photos of their donation receipts.
"This is a campaign for each of us to donate THB247.5 (about US$8) to Ja New," Ksssthailand tweeted Saturday, sharing the account number.
Since the military-led government seized power in 2014, Sirawith has helped lead numerous protests as a leader of the defunct New Democracy Movement and its successor, the Democracy Restoration Group.
#saveจ่านิว
"แคมเปญจ์​บริจาคคนละ 247.5 บาท​ช่วยจ่านิว​ จะมีใครสนใจร่วมกันทำ?
หลักการเหตุผล​ คือ​ (ใครเห็นด้วย​ ขอให้ช่วยกันร่างข้อความ)​
เลขที่บัญชีแม่จ่านิว 488-031-7020 กรุงไทย (พัฒน์นรี ชาญกิจ)"#จ่านิวถูกทําร้าย #จ่านิวถูกรุมทําร้าย pic.twitter.com/6s7rTeZvFv

— Skoln Suwannapisith (@KSSSTHAILAND) June 29, 2019
อาวุธที่ชาย 4 คนใช้รุมทำร้ายจ่านิวเช้านี้คือไม้เบสบอล อาการล่าสุดยังตอบสนองสื่อสารไม่ได้ พรุ่งนี้นิวมีงานคอนเสิร์ตดนตรีประชาธิปไตยที่ตั้งใจจัดกับเพื่อนๆ ร่วมส่งพลังใจกันค่ะ https://t.co/B2iyQ8OwQu pic.twitter.com/kmW7UWUTdO

— Bow Nuttaa Mahattana (@NuttaaBow) June 28, 2019
Related stories:
Pro-Democracy activist brutally beaten in broad daylight in Bangkok
Rights groups, family demand answers on missing Thai activists accused of insulting monarchy