BKRW price: B1,199 (includes one plate to smash per person)
This next-gen rebirth of a family-run Greek restaurant from Sydney, Australia, conjures an ouzo-fueled party atmosphere unlike anything that's come before it in Bangkok. Those vibes are alive and well during BK Restaurant Week—on top of the three-course menu, each guest gets a plate to smash in typical Greek style. Before the crockery crushing starts, you can muse over a duo of appetizer spreads (one starring falafels and the other with shrimp ceviche) and mains that go heavy on the chicken or seafood. You can wrap the meal up with galaktoboureko (a crunchy Greek-style custard pie), traditional baklava, or a Greek yogurt ice cream.
120 Sala Daeng Soi 1/1, 062-567-7751. Open Mon-Sat 5pm-midnight, Sun 12pm-11pm
BKRW price: B1,199
Located on the 32nd-floor rooftop of Sofitel Bangkok Sukhumvit, this modern Belgian bistro has a stunning panoramic city view and serves food with French roots. The food does, however, take a casual approach, ditching flowery French creations for more everyday French fare. There is also, of course, an impressive selection of over 30 Belgian beers. For BK Restaurant Week, tuck into a bevy of Belgian classics (hello massive dessert waffle) or fusion dishes with a special Belga twist, like waterzooi "Belga's way" (slow-cooked chicken breast in a white wine sauce that resembles a stew).
120 Sala Daeng Soi 1/1, 062-567-7751. Open Mon-Sat 5pm-midnight, Sun 12pm-11pm
BKRW price: B1,199
This casual restaurant at the Siam Kempinski Hotel will take you on a trip to the Mediterranean thanks to its color palette of azure blues and dark wood and the array of flavourful classic and contemporary dishes that won them a 2021 TripAdvisor Travelers' Choice Award. The mouthwatering French-inspired meal starts off with a traditional onion soup, followed by a juicy pork chop à la moutarde or a whole sole meunière. For dessert, end on a lighter note with an éclair accompanied by fresh berries.
L/F, Siam Kempinski Hotel, 991/9 Rama 1 Rd., 02-162-9000. Open daily 11am-7pm
BKRW price: B1,199
Quince is a Mediterranean-inspired, produce-driven experience. Modern dining elements are at play at the restaurant with its a sleek mid-century look of teal, velvet, leather and teak as part of property developer Sansiri's uber-stylish "Siri House" complex (imagine a Soho House members club but tucked down a posh Bangkok side street and you're getting there). For BK Restaurant Week, you get a four-course journey through some of the restaurant's best dishes, including a choice between aged duck breast or barbecued sea bream as a main.
Siri House, 14/2 Som Khit, 094-868-2639. Open daily 5-9:30pm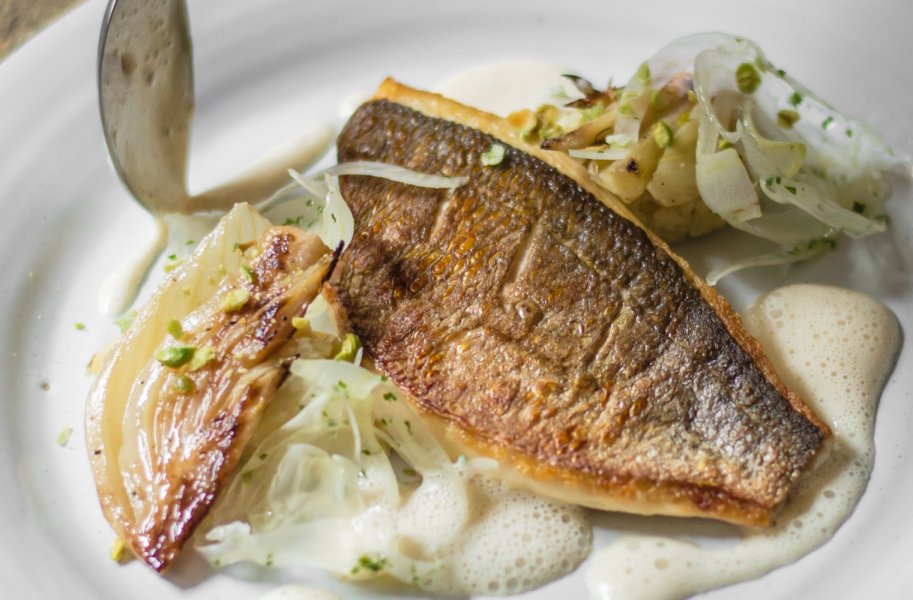 BKRW price: B1,199
Part bistro, bar, and gallery, but 100-percent a testing ground for bold new ideas, buzzing French restaurant Workshop aspires to be more than the sum of its parts. Conveniently situated on Yenakart Road in Sathorn, the restaurant occupies two renovated townhouses that have been fused together. Diners can expect eclectic options not available anywhere else, such as a crab cappuccino or an Australian lamb rump made with smoked milk and roasted coconut.
15/1 Yen Akat Rd., 06-2519-0055. Open Mon-Sat 11am-11pm
BKRW price: B1,199
Perched 37 floors above Silom at the Pullman Bangkok Hotel G, with river views to boot, this award-winning wine bistro combines well-executed French comfort food, chargrilled Aussie steaks and a long, long wine list into one sleek yet affordable package. The charcuterie and cheese platters also come highly recommended—just be sure to book well ahead for a spot on the terrace.
37/F, Pullman Bangkok Hotel G, 188 Silom Rd., 096-860-7990, 02-352-4000 Ext: 1351. Open daily 5pm-1am