BK Restaurant Week 2022 is just around the corner, so it's time to take a look at what's on the menu from this year's Italian-inspired players. Pre-booking (a special early booking period for Citi credit card members) opens this Monday (June 6), so make sure to head over to the BK Restaurant Week website to see the full list of over 50 restaurants and check out the menus in detail.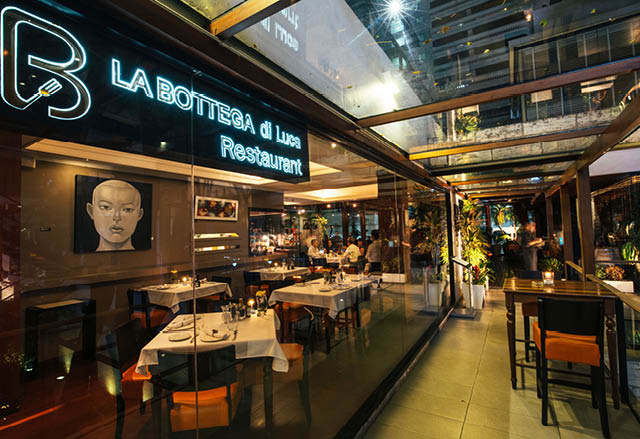 BKRW: price: B1,199 (net)
When it comes to Italian fine dining, La Bottega lives up to expectations in every way shape and form, from the authenticity of the food (drawn from all parts of Italy), the hands on service by the chefs, staff, and classy ambience. This has been one of Bangkok's most well-respected Italian venues for the better part of a decade, and for BK Restaurant Week they are pulling out all the stops. Dig into elegant starters like the stuffed calamaro (sausages, borlotti beans, red onions, tomato confit) and mains like Tuscan-style hand-rolled pasta with pink garlic, homemade tomato sauce, extra virgin olive oil.
BKRW price: B899 (net)
You know their bites on Sukhumvit Soi 45 at Gigi Dining Hall & Bar, now try the smooth new Gigi Cafe in Asoke. Gigi Cafe features casual Italian dining with pizza and pasta, and health nuts will find gluten-free pasta and vegan dishes, with menus curated by Edoardo Bonavolta (one of the early pioneers of Bangkok's recent plant-based wave). So plant-based fans can rejoice at a three-course menu that includes at least one plant-based option for each course, like a delicious ricotta-pear cake dessert and paccheri-style eggplant pasta. Meat eaters don't have a fret, the likes of ravioli carbonara and calamari fritti will keep you satisfied.
28 Soi Sukhumvit 19. Open daily 8am-11pm.
BKRW price: B1,199 (net)
The famous laid-back pizza joint from Luca Appino (La Bottega di Luca, listed above) takes an Italy-meets-France approach to pizzas. Pumped out of two massive ovens from Italy, the pizzas here are delicate and refined affairs that often bear extravagant toppings. The restaurant's three-course offering for BK Restaurant Week starts off with a choice of classic starters (a cheese board, caprese salad, or mixed "chic" salad) and features mains that cover your pizza bases (burrata and capocollo calabro or boscaiola) but also extend to things like grilled pork chops and pasta. Top the whole thing off with some nice ice cream for dessert and you're stuffed.
15/1 Soi Ruamrudee, Phloen Chit Rd., 02-651-5091. Open daily, 11:30am-10pm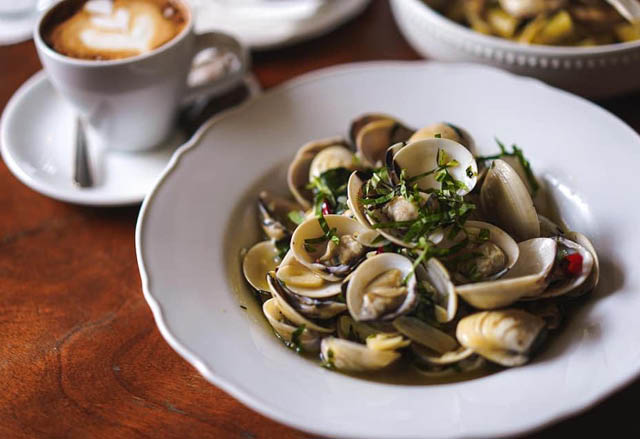 BKRW price: B899 (net)
Surrounded by the brothels-turned-boutiques on Maitri Chit Road, Contento stands out with its navy blue paint and white pineapple wall sculptures. Rest assured, the menu does not stray from the setting. European comfort food takes center stage through straightforward dishes that are chock full of flavor. Get your meal started with white anchovy filets marinaded with pesto and served on toast, choose from deep-fried baby pink shrimp or truffled polenta for your starter, naked tomatoes or char-grilled Caesar salad from the garden, and rigatoni vodka or spaghetti vongole to round the meal off with some artisanal pasta.
Maitri Chit Rd., 090-898-2397. Open daily 11am-10pm
BKRW price: B1,199 (net)
Mediterra brings the flavors of southern Italy to Asoke in a fairytale setting with clean white archways in a century-old white house that's earned the place a spot on the 100 Best Bar & Restaurants Design Award 2020 (world edition). Start the meal with grilled calamari, then tuck into risotto di scampi followed by crispy, pan-seared sea bass. Finish things off with traditional Sicilian cassata cake. Vinophiles will enjoy a very impressive wine list spotlighting Italian labels.
14 Sukhumvit Soi 23, 02-115-7776. Open Tue-Sun noon-2pm, 6pm-midnight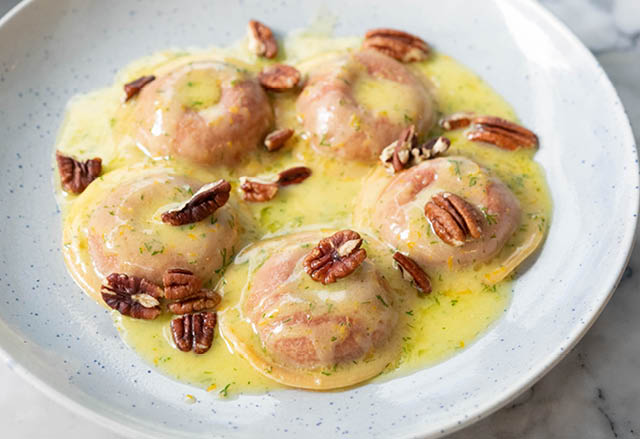 BKRW price: B599 (net), B899 (net) and B1,199 (net)
Chic and cheerful in eye-popping aquamarine, this Thonglor pasta house's uncompromising dedication to authenticity is writ large in its dishes. Pasta lovers will be able to choose from classic delights such as spaghetti allo scoglio or a tagliatelle bolognese made with a 24-hour slow-cooked Wagyu beef shoulder. Desserts include perfectly fried churros, and La Dotta's signature tiramisu with fresh mascarpone and a shot of espresso. Living up to its billing as a chic and cheerful pasta bar, it's no wonder that La Dotta was mentioned in the 2022 Michelin Guide Thailand.
161/6 Thonglor Soi 9, 02-392-8688. Open daily 9am-12:30pm, 3:30-9pm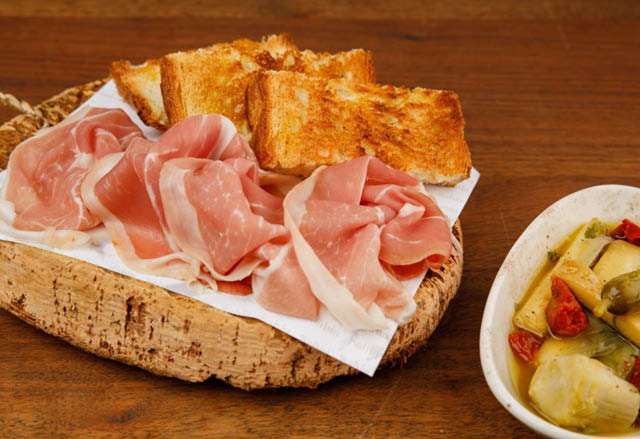 BKRW price: B899 (net)
Located within the Grand Hyatt Erawan in the heart of Bangkok, Salvia is a warm Italian trattoria with family-style dishes made for sharing. Warm lighting, potted trees and rattan furnishings create a homey atmosphere, supported by glass cabinets filled with Italian knick-knacks and polished wine glasses. Take in the neighborhood-inspired vibes as you make your way through an insalata di zucchine, followed by a spicy spaghettini all n'duja, and, of course, end your night with a classic tiramisu.
M/F, Grand Hyatt Erawan Bangkok, 494 Ratchadamri Rd., 02-254-1234. Open daily 11:30am-1:30pm, 6:30-10:30pm