In the past two weeks, the anti-junta track Prathet Ku Mee (What My F**king Country's Got) by the hip hop collective Rap Against Dictatorship (RAD) has taken the world by storm, collecting 28 million views in just two weeks and drawing a public response from junta leader and current Prime Minister Prayut Chan-o-cha.
The single's confrontational lyrics about political corruption and oppression have struck a chord with netizens — indicating a growing frustration with the junta's four-year rule, which is scheduled to undergo a public referendum in a planned election this February.
"The country where you must choose to suck truth or a bullet," one rapper says in the music video, wearing sunglasses with a bandana wrapped around his mouth.
"The country that claims to have freedom but no right to choose," raps another.
While talks of arrests and interrogations have spread through local media like wildfire, Dechathorn "Hockhcaker" Bumrungmuang, one of the four founders of RAD and a music-content writer by day, told Coconuts Bangkok this weekend that, at the moment, that's all it is: talk.
"We're all OK. No one in our group has been directly contacted by anyone from the government. What the media reported worried us more than anything," he told Coconuts in a phone interview on Saturday afternoon.
"Just the fact that the prime minister responded to us meant we got our message across to who we were targeting."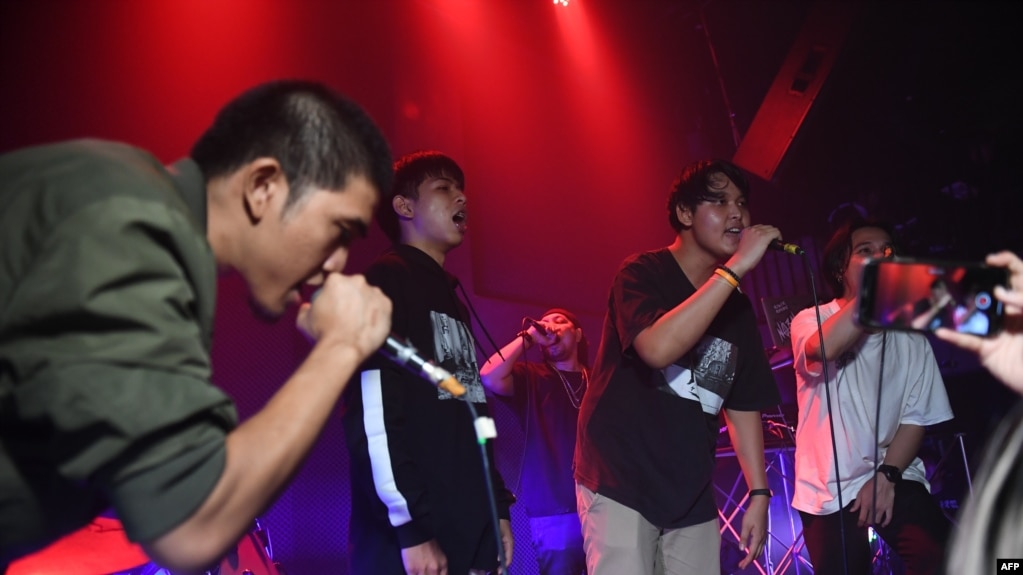 The Perfect Storm
The reception for Prathet Ku Mee shocked nobody more than the group themselves, who were conservatively expecting maybe a million views by the end of three weeks, said Dechathorn, who is also in charge of the group's promotion.
"The timing was such a lucky coincidence. Honestly, we didn't [have] a deadline for the release at all because we kept on getting delayed."
While political art is not new to Thailand, the emerging popularity of rap has given the group an avenue to reach an audience that extends far beyond the underground art scene, he said.
"That is the exciting thing about rap right now. Rap is ruling the world and Thailand is finally catching up," Dechatorn said, pointing to rap's growing number of appearances on the Thai musical charts and the popularity of TV rap competition The Rapper.
"The genre has never been more popular in the country, and now we can use this accessible medium to start a political conversation with a mainstream audience.
"After all, how can anything get better if we don't talk about it?" Dechatorn asks.
Power in numbers
Dechatorn can recall when Prathet Ku Mee was still an eight-bar (about two paragraphs long) concept by co-founder Nattapong "Liberate P" Sareemuang back in 2016.
It was still in that truncated form when Nattapong first met up with Dechatorn and two other artists — Pratya "Jacobi" Sooragamjolroj and ET (who requested anonymity) — in late 2017 to discuss starting RAD.
The four founders are the core members of the group while other guest rappers rotate and change with every song, explained Dechatorn.
"The first thing we came up with was our name — inspired by the '90s rap-metal band Rage Against the Machine — which also became central message. Then we sent collaboration invites to about 20 other rappers in Thailand."
Suddenly, Prathet Ku Mee was moving forward again.
"We took about two or three months to finish the song," said Dechatorn, who explained that the creative process was quite slow by Thai industry standards.
"We didn't want to rush it because of how sensitive the subject matter is."
Though the collective shared a general vision focused on freedom of expression, not every artist involved with the group shares the same politics.
"I didn't agree with some of the political opinions of some of the rappers we worked with, but that was intentional, because we didn't set out to look for rappers with the same political views," he said, though at least one common theme seems to be shared by all.
"We wanted people that believe in democracy and thus, disagree with this military dictatorship that came into power without a fair election."
'This is America'
Many netizens have drawn a parallel between Prathet Ku Mee and Childish Gambino's This Is America music video. It turns out that they were dead on.
According to Dechatorn, their video was heavily inspired by Gambino's 2018 gospel-infused hip hop hit, which addresses the long-debated issues of gun violence, mass shootings and racism in the United States.
Like Gambino, RAD wanted to incorporate immediately recognizable imagery that marks iconic, historical moments.
"Personally, I wanted to use Black May [the protest in Bangkok in May 1992, against General Suchinda Kraprayoon's government] because it represented the people's unification against authority, but there are no iconic visuals to go with it," said Dechatorn.
The gang finally decided on the infamous 1976 Thammasat University Massacre — known as "the 6 October event" among Thais — where the campus was attacked by Thai state forces and far-right paramilitaries.  
With 46 deaths officially recognized (though many survivors claim the death toll was over 100), 167 casualties and 3,000 arrested, it remains, arguably, the most iconic political tragedy in Thailand's history.
Starting a conversation
Not all are fans of the message, however.
Critics ranging from government officials to academics have publicly claimed the artists are "giving Thailand a bad name."
That's a bit rich given the international scrutiny and condemnation that have accompanied the previous four years of junta rule, Dechatorn says.
"We're not saying anything that hasn't already been said."
Just last year, Human Rights Watch declared that the junta had "failed" to keep its promise made at the United Nations to "end repression of civil and political liberties, imprisonment of dissidents, and impunity for torture and other abuses."
"To the people who say we're 'ruining Thailand's reputation', I ask what looks worse: turning a blind eye on the problems that everyone already knows about anyway or recognizing our problems and starting a conversation to look for solutions?" Dechatorn asked
And that's the ultimate goal of the project, he insists, inspiring people from all sides of the political spectrum to have a conversation and to encourage artists to speak their minds freely.
"We want to inspire artists to use their creative outlets to talk about social, economic and political realities of their lives," he added.
"Hip hop, by nature, is a rebellion and rap is just storytelling. If this lights a fire for other artists to speak up too or even speak up against us, we'll be happy."