While some drivers think it's cute and hilarious to stick a giant key on the back of their bulky, round Honda Jazz to imitate a wind-up toy, it turns out they could face a fine of THB2,000 – and not just because it looks really ugly.
The Department of Land Transport yesterday issued a warning about the popular car decor, stating that such adornments are considered a distraction to other road users and could potentially lead to accidents.
The trendy key, which is usually made from a soft foam and seen on cars with round features such as Honda Jazz and Toyota Yaris, is illegal, according to Vehicle Act B.E. 2522.
Dept. of Land Transport Director Theerapong Rodprasert said motorists should not install any decoration that protrudes from the vehicle because the object could potentially fall into the road and cause a hazard.
The giant key is probably an upgraded version of hanging cute stuffed animals from your bumper, which has also been prohibited, sadly.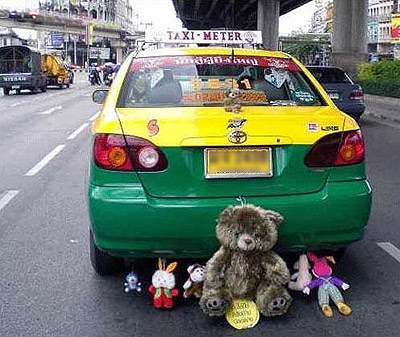 Photo: MCOT
Subscribe to The Coconuts Podcast for top trending news and pop culture from Southeast Asia and Hong Kong every Friday!